Liverpool Carpet Cleaning - New Fresh Look and Scent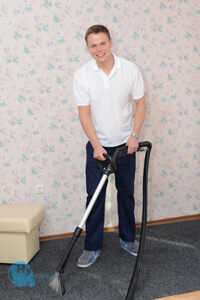 Your carpets are the centerpiece of your living rooms and maybe one of your biggest investments. To maintain their appearance, soft feel, vibrant colours, sweet scent and prolong their lifespan, most carpet manufacturers recommend deep carpet cleaning sessions at least twice a year. When done right on a regular basis and from competent cleaners, your carpets will be kept clean and hygienic for years to come. In this way they will also ensure a healthy home for your family, especially when you have infants and small children.
Quality carpet cleaning helps keep the fabric looking better for longer. Different types of natural and synthetic carpet fibres require individual cleaning approach. Proper assessment of the fabric ensures a proper cleaning method will be selected for the overall treatment:
Hot water extraction: Injecting hot water and special cleaning solutions under pressure into the carpet pile. At the same time the water is extracted by a powerful vacuum machine along all dirt, dust and impurities. Depending on the size of your carpet, a few hours will be needed for it to completely dry. You can speed up the drying process by opening a door or a window.
Dry carpet cleaning: This technique is recommended for antique rugs, carpets that may shrink or ones of man-made fibers. Dry enzyme powder is sprayed over the surface of the carpet and then rubbed deep within the fibers. After that, the powder is vacuumed up with all dust, dirt and soiling. As no water is used, there is no drying time.
Our Process of Deep Carpet Cleaning
Our carpet cleaners bring all the needed equipment and detergents
They place protective folio pads under furniture legs to prevent any new stains
Next is the assessment of the carpet material to help choose the most appropriate cleaning techniques and solutions
The carpet surface is vacuumed to remove any loose dirt particles
Pre-treatment of stubborn stains and high-traffic areas
Thorough carpet cleaning with the chosen method
Preserve Your Soft Furniture With Regular Upholstery Cleaning
Your upholstered furniture is probably one of your biggest investments. Everyday use can dull its bright colours, because all delicate fabrics are very easily affected by stains, odours and general soiling. It won't take too long before you will need a competent cleaning to keep them hygienic, get back their look and prolong their lifespan.
Major textile manufacturers recommend a professional upholstery cleaning at least once every 6 months to keep the fibres looking good for longer. And as different types of upholsteries demand individual approach, you better leave that task to someone with experience on proper material assessment. Take advantage of this protective and efficient way to keep your upholstered furniture bright and soft. All used upholstery cleaning methods are safe for the different types of synthetic and natural materials. Before the actual cleaning, all hard-to-remove stains are pre-treated to ensure thorough service.
Your Advantages of Hiring Our Carpet and Upholstery Cleaners in Liverpool
Return the sweet smell and colours your favorite carpets, rugs, sofas and armchairs once had
Enjoy their new look and feel, free of spots, stains and allergies
Order this service on a regular basis or for that one-time emergency stain removal
All cleaners are professionally trained and qualified in proper fibre assessment
Trust them to choose the right cleaning methods and products
Using only eco-friendly detergents,

safe for your children and pets

Ask for your special deals and cost savings

when you order more services at the same time
Add this service to your house cleaning and end of tenancy cleaning appointments
Call

0151 673 0085

now to

get your free quotes